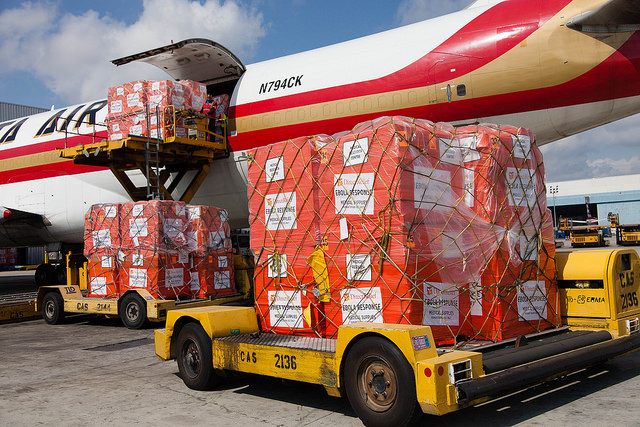 Direct Relief's mission is to improve the health and lives of people affected by poverty or emergency situations by mobilizing and providing essential medical resources needed for their care.
Direct Relief's assistance programs are tailored to the particular circumstances and needs of those suffering the effects of natural or man-made disasters. This work is conducted in partnership with local organizations, and made possible by material and financial contributions from individuals, health care companies, and medical manufacturers.
History
Founded in 1948, Direct Relief provides medical assistance to people and communities without regard to their political systems, religious beliefs, or ethnic identities. Read the story.
People
To carry out its charitable mission and achieve its goals as an international humanitarian relief organization, Direct Relief employs 60 professional staff members, is governed by an independent Board of Directors, and benefits from help of more than 400 volunteers. Meet our staff and Board.
Finances
Direct Relief honors the generosity of its donors by following a firm policy of full transparency in all of its operations. The organization routinely reports on how donations are used and makes its financial documents (e.g., tax returns, annual reports, audits), fundraising practices, and compensation policies open to the public. See Financials.
Policies
Direct Relief policies include:
Privacy Policy
Donation Policies
Compensation Philosophy
Conflict of Interest Policy
Whistleblower Policy
Recognition
Direct Relief is widely recognized by independent organizations such as Charity Navigator and publications that monitor non-profits for the high degree of efficiency in how its finances are managed and spent. See Awards and Recognitions.

Work
Direct Relief's assistance programs focus mainly on maternal and child health, disease prevention and treatment, and emergency preparedness and response.
Credentials
As a licensed wholesale distributor of pharmaceuticals and other medical supplies, Direct Relief holds credentials and memberships with a variety of prominent professional organizations, government agencies, and jurisdictions.
Principles
Direct Relief's strategic plans and operations are based on a set of 10 guiding principles that enable it to achieve its goals and mission. Read the principles.
FAQs
Here are some answers to the most common questions about Direct Relief, including information about its operations and programs, how you can donate or serve as volunteer, and how the organization makes the best use of the donations it receives from individuals and companies.
Job Opportunities
Direct Relief is always looking for motivated people to join the team at its headquarters in Santa Barbara, California. Browse job opportunities.