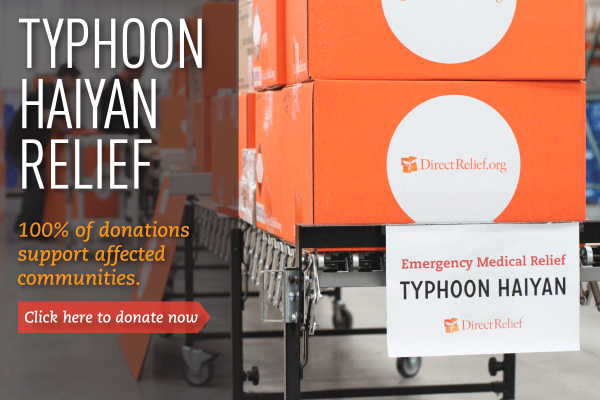 Typhoon Haiyan Updates:
Super Typhoon Haiyan (locally-known as Yolanda) battered the Philippines on Nov. 8 with torrential rains and winds reaching reaching nearly 200 mph – equivalent to a Category 5 hurricane. The United Nations estimates that more than 11.3 million Filipinos have been affected, with 673,000 made homeless, since Haiyan – one of the most powerful typhoons ever. With many of the country's hospitals and medical facilities destroyed or out of operation; valuable stocks of medicine damaged in the storm; hundreds of thousands of people needing urgent medical care; and increased risk of waterborne diseases from flooding; Direct Relief is working around-the-clock to fill these needs and help people affected access the health care they need.
Direct Relief is delivering a world of good to people affected by Super Typhoon Haiyan in the following ways:
1. Sending Critically Needed Medicines and Supplies
Since Typhoon Haiyan struck the Visayas region of the Philippines, Direct Relief has coordinated more than 20 unique deliveries of medicine and medical supplies to healthcare provider partners in the region who were impacted by the storm: 120 tons of donated medical relief goods, with a wholesale value of over $10 million.
The shipments contain items such as wound dressings for trauma-related care, antibiotics for skin and respiratory infections, and nutritional items for pregnant mothers and displaced children, among many other medical relief goods. Deliveries have been directly distributed to charitable hospitals hit by the storm's surge.  In collaboration with Philippines-based organizations such as the International Pharmaceuticals Incorporated Foundation (IPIF), global non-governmental organizations like the Asia America Initiative and Access Aid International, as well as the Philippines Department of Health, Direct Relief continues to safely and efficiently provide specifically requested medicines to those who need them most.
2. Providing Emergency Cash Grants
Direct Relief has already provided $200,000 in direct cash grants to four nonprofit organizations in the Philippines working to assist people affected by the typhoon and has committed another $200,000 to three additional groups.
Immediately following the typhoon, Direct Relief granted $50,000 to The Zuellig Family Foundation, which enabled them to provide 6,680 locally-sourced food and shelter relief packs to families in Eastern Samar where the storm first hit. Another $50,000 was granted to The Philippine Disaster Recovery Foundation, which was used to help distribute rice and tents, and restore communications in parts of Samar, Leyte, and northern Cebu. Direct Relief also granted $50,000 to Access Aid International to help restore maternal and child health services to the Concepcion Islands off the coast of eastern Panay Island.
The next round of grant funding will be provided to three additional Philippine-based organizations who are working to provide medical access to people who live in extremely remote areas affected by the typhoon without access to adequate health services. In these areas, there is a need for medical outreach where medical providers can address chronic illness, provide psychosocial support, and give mothers and babies the care they need.
3. Utilizing Technology to Ensure Effectiveness
Direct Relief is collaborating with software company Palantir Technologies and local Philippine partners including the Philippines Red Cross, Gawad Kalinga, and the Tacloban Health Cluster to enable a more targeted and efficient response effort in the Philippines. Palantir is providing operational technology and analysis to determine where help is needed most and provide real-time tracking of assets and personnel to both nonprofits. Teams from our partner organizations are conducting health and structural needs assessments, conducting syndromic surveillance, and coordinating volunteer efforts using GPS-enabled satellite communications devices (inReach SE from Delorme), provided by Direct Relief. The combination of mobile satellite communications with Palantir's analytics platform allows efficient information sharing and rich situational analysis. This work is a result of a Clinton Global Initiative commitment made by Palantir in January 2013 to improve disaster response efforts by providing software and analytical support to better mobilize responders and resources to natural and other disasters.
4. Leveraging Corporate Support
Without the generosity of Direct Relief's corporate supporters, this effort would not be possible. Companies that have donated urgently-needed medicines, medical supplies, nutritional items and/or cash include:

21st Century Fox
3M
Abbott and Abbott Fund
AbbVie and AbbVie Foundation
Actavis Pharma Inc.
Advanced Sterilization Products
Aera Energy LLC
Alcon Laboratories, Inc.
Allergan, Inc. and the Allergan Foundation
Amgen Foundation
Ansell Healthcare
Aspen Surgical
Basic Medical
Baxter International Inc.
BD
Boehringer Ingelheim Cares
Bristol-MyersSquibb
Calmoseptine, Inc.
Cardinal Health, Inc.
Carnival Foundation
Cera Products, Inc.
Chattem Inc.
Clif Bar & Company

Cost Plus World Market
Covidien
C.R. Bard and C.R. Bard Foundation
CustomInk LLC
CVS Corporation
Drip Drop, Inc.
Eli Lilly
Ethicon
Equipped2Heal
FedEx
FirstLine Gloves, Inc.
Grifolds, Inc.
GSK
GSMS Incorporated
Henry Schein
Honeywell Products
Hospira
Integra LifeSciences Corporation
Johnson & Johnson Family of Companies
Luma Pictures
McKesson Medical-Surgical
Medvantx Inc.
Merck & Co., Inc.

Microflex
Midmark Corporation
Mylan Laboratories Inc.
Myoderm
NAPO Pharmaceuticals
News America Incorporated
Nephron Pharmaceuticals
Omron Healthcare, Inc.
Pfizer, Inc.
Prestige Brands
Pro Packing, Inc.
Ranbaxy
Sanofi US Foundation for North America
Sempermed USA
Senator Investment Group LP
Shire
Sunrise Pharmaceutical, Inc.
Teva Pharmaceuticals
Virtus Pharmaceuticals
Yorba Oil Company, Ltd.
Zynga