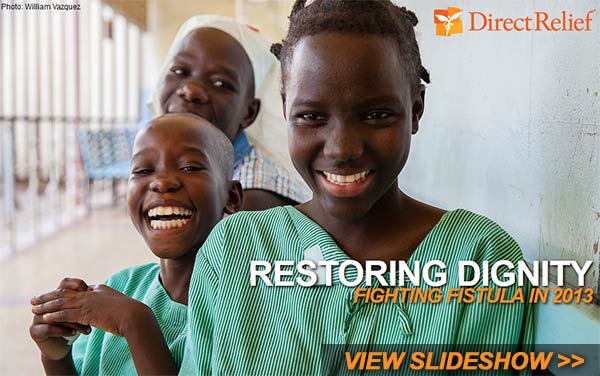 What is Obstetric Fistula?
Obstetric fistula is a hole in the birth canal that is caused by prolonged and obstructed labor. If untreated, a woman with obstetric fistula will experience constant and uncontrollable leakage of urine and/or feces. In addition to physical injuries, many women with fistula suffer humiliation, isolation, and stigma as a result of the smell and constant leakage. And in most cases of obstructed labor in which a fistula develops, the baby is stillborn.
An estimated 2 million women and girls in the developing world are living with obstetric fistula and more than 50,000 new cases develop each year, far surpassing the global capacity for treatment. But slowly, availability of treatment is expanding as more doctors are becoming trained to provide fistula repair surgery and more women with fistula are identified and referred to treatment. At the same time, efforts to improve coverage of skilled providers at birth and increase access to emergency obstetric care to manage complications are helping prevent new cases of fistula.
How Direct Relief is Helping End Obstetric Fistula
Fistula Repair Modules: Delivering essential medical and surgical supplies to enable life-restoring fistula repair surgery
Without access to quality medical and surgical supplies, health providers are unable to deliver life-restoring care to women living with fistula. With support from leading healthcare industry partners, Direct Relief provides critical supplies necessary for fistula repair surgery and post-operative care. Direct Relief's Fistula Repair Module includes essential medicines and surgical supplies and is provided at no cost to facilities providing fistula repair surgery worldwide.
To apply for a Fistula Repair Module for your health facility, click here.
To learn more about Direct Relief's network of partners providing fistula repair surgery, click here.
Global Fistula Map: The largest source of information on fistula treatment capacity worldwide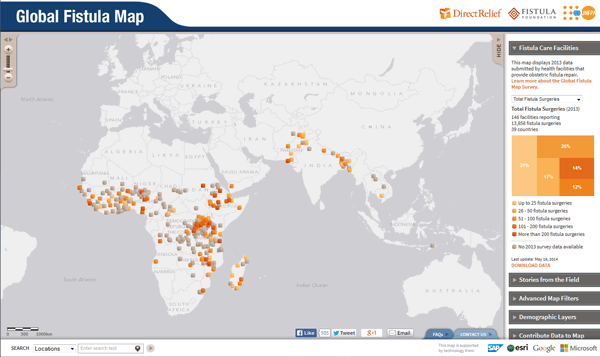 Direct Relief, in partnership with the United Nations Population Fund (UNFPA) and The Fistula Foundation, developed the Global Fistula Map—the first-ever worldwide map of treatment for this devastating childbirth injury—to help better understand the current fistula treatment capacity; more effectively target scarce resources to where they are needed most; and identify where gaps in service may exist. For Direct Relief, the Global Fistula Map enables the organization to know where fistula surgery is available, allowing us to increase our support of medical surgical supplies to those treatment facilities, a critical component in helping sustain and expand their ability to provide care to women in need.
Partners In Obstetric Fistula Repair
FISTULA REPAIR PROVIDERS

Aberdeen Women's Center, Sierra Leone
Addis Ababa Fistula Hospital, Ethiopia
B.P.Koirala Institute of Health Sciences, Nepal
Benadir Hospital, Somalia
Bugando Medical Centre, Tanzania
Bwaila Maternity Hospital, Malawi
Centre Hospitalier du Point G, Mali
Centro Evangelico de Medicina do Lubango, Angola
Child Legacy International, Malawi
Danja Fistula Center, Niger
Edna Adan University Hospital, Somaliland
Evangel VVF Center, Nigeria
Galkayo Medical Center, Somalia
Gynocare Fistula Center, Kenya
Hoima Regional Referral Hospital, Uganda
HOPE (Cox's Bazaar) Hospital, Bangladesh
Jamaa Mission Hospital, Kenya
Jaramogi Oginga Odinga Teaching and Referral Hospital (JOORTH), Kenya
Jason Sendwe Provincial Referal Hospital, Dem. Rep. Congo
JFK Medical Center, Liberia
Kathmandu Model Hospital/ Public Health Concern Trust-NEPAL (phect-NEPAL), Nepal
Koohi Goth Hospital, Pakistan
Korle Bu Teaching Hospital, Ghana
Matata Nursing & Maternity Hospital, Kenya
Mbale Regional Referral Hospital, Uganda
Mid Western Regional Hospital, Nepal
Monze Mission Hospital, Zambia
Mulago National Referral & Teaching Hospital, Uganda
Murshid Hospital & Health Care Centre, Pakistan
National Borama Fistula Hospital, Somaliland
National Center for Obstetric Fistula Referral, Niger

National Center for Reproductive Health and Fistula at N'Djamena, Chad
Peramiho Mission Hospital, Tanzania
Saint Francis Mission Hospital, Zambia
Saint Jean de Dieu Hospital, Benin
Saint Joseph Hospital , Democratic Republic of Congo (D.R.C.)
Selian Lutheran Mission Hospital Fistula Project, Tanzania
Soroti Regional Referral Hospital, Uganda
St. Luc Hospital, Democratic Republic of Congo (D.R.C.)
UNFPA Madagascar
UNFPA Malawi/Queen Elizabeth Hospital, Malawi
University Teaching Hospital of Kigali (CHUK), Rwanda

FOUNDATION AND NONPROFIT PARTNERS

The Green Park Foundation
EngenderHealth
Fistula Foundation
Freedom From Fistula Foundation
One By One
Operation Fistula
WAHA International
Worldwide Fistula Fund

CORPORATE SUPPORTERS

Ansell
Baxter
BD
Covidien
CR Bard
Ethicon
Henry Schein
Hospira
Johnson & Johnson
Merck
Learn More: Read Direct Relief's blog to learn more about the life-restoring fistula repair surgery supported by Direct Relief.