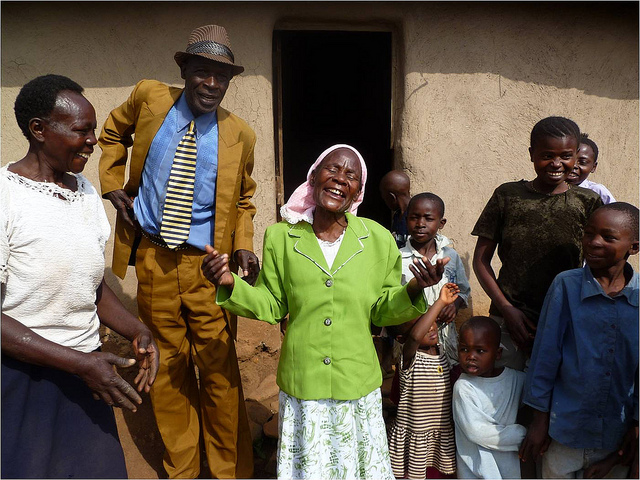 The latest data released in the Global Fistula Map shows the gap is widening for women suffering from obstetric fistula.
What is Fistula?
Obstetric fistula is a hole in the birth canal that is caused by prolonged and obstructed labor. If untreated, a woman with obstetric fistula will experience constant and uncontrollable leakage of urine and/or feces. In addition to physical injuries, many women with fistula suffer humiliation, isolation, and stigma as a result of the smell and constant leakage. And in most cases of obstructed labor in which a fistula develops, the baby is stillborn.
Each year, an estimated 50,000 to 100,000 new cases develop, far surpassing the global capacity for treatment. The latest data released in the Global Fistula Map shows the gap is widening for women suffering from obstetric fistula. But slowly, availability of treatment is expanding as more doctors are becoming trained to provide fistula repair surgery and more women with fistula are identified and referred to treatment. At the same time, efforts to improve coverage of skilled providers at birth and increase access to emergency obstetric care to manage complications are helping prevent new cases of fistula.
How Direct Relief is Helping
1. Providing Essential Medical and Surgical Supplies to Enable Life-Restoring Fistula Repair Surgery
A decade ago, Direct Relief delivered its first shipment of medical supplies to the flagship Addis Adaba Fistula Hospital in Ethiopia. Since that time, Direct Relief has grown its network of support to reach surgeons and hospitals providing life-restoring treatment in more than 10 countries in Africa and Asia, most recently to Niger, Somalia, and Pakistan.
Direct Relief delivers critical supplies necessary for fistula repair surgery and post-operative care, including sutures and surgical supplies, surgical instruments, antibiotics and analgesics, incontinence pads, and personal care products.  Donated medical supplies enable hospitals to direct funds they would otherwise use to purchase supplies and medication to other critical areas to expand fistula repair programs.
Read more about how Direct Relief helped Gynocare Fistula Center in Eldoret, Kenya open their doors in 2009. Hear from the women that benefited from this life-restoring care through our partner hospital in Tanzania.
2. Global Fistula Map // The largest source of information on fistula treatment capacity worldwide.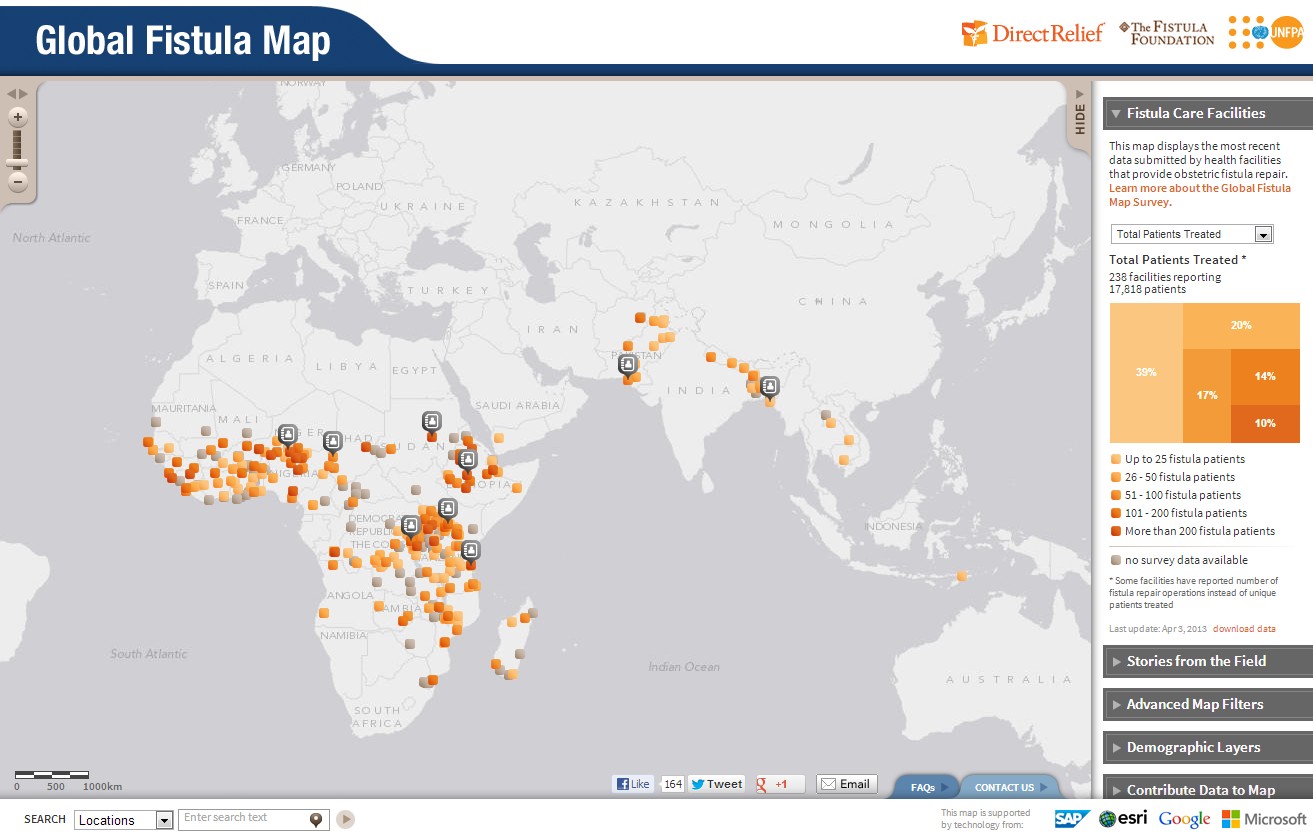 Direct Relief, in partnership with the United Nations Population Fund (UNFPA) and The Fistula Foundation, developed the Global Fistula Map—the first-ever worldwide map of treatment for this devastating childbirth injury—to help better understand the current fistula treatment capacity; more effectively target scarce resources to where they are needed most; and identify where gaps in service may exist.  For Direct Relief, the Global Fistula Map enables the organization to know where fistula surgery is available, allowing us to increase our support of medical surgical supplies to those treatment facilities, a critical component in helping sustain and expand their ability to provide care to women in need.
Key Map Findings:  The 2013 edition reports on 238 health facilities providing fistula repair in 42 countries across Africa, Southeast Asia, and the Middle East. The latest data reveals that the number of women needing treatment for obstetric fistula is outpacing the number of surgical repairs.  Sites responding to the survey reported that 17,878 women were able to receive treatment last year, while an estimated 50,000-100,000 women developed cases of fistula during the same period – widening the gap between capacity to treat and number of women suffering from the condition.  While availability of surgical treatment is growing, the current capacity of most fistula treatment facilities remain limited.  Less than 10 percent of health facilities treat more than 200 women per year and nearly half of all facilities have only one or no surgeons permanently on-site.
New Features of the Map:  New features of the 2013 Global Fistula Map include:  new facilities reporting data; data on rehabilitation and reintegration services; stories of women that have received surgical repairs; and sources of financial support for fistula repair services.  The map will be continuously updated with information provided by experts and practitioners around the globe about facilities providing fistula repair and rehabilitation services.
In November 2012, the map was presented at the International Society of Obstetric Fistula Surgeons and the UNFPA International Obstetric Fistula Working Group in Bangladesh, to help health providers, public health professionals, and fistula advocates understand where current resources exist today in order to better plan for the future. The Map was also recently cited in the 2012 UN Secretary General Report "Supporting Efforts to End Obstetric Fistula" as the first of its kind to improve understanding of where critical fistula repair services exist.
3. Improving Access to Treatment
Direct Relief works closely with our local health care partners to help them initiate or expand fistula repair services so that more women have access to this life-restoring care. In addition to delivering the medical and surgical supplies essential to fistula treatment, Direct Relief has worked closely with trusted partners such as the Fistula Foundation to provide cash grant support to help local partners do even more.
In Somaliland, Direct Relief helped facilitate the construction of a surgical theater at the Edna Adan Hospital in Hargesia. In Nyanza Province, Kenya, Direct Relief helped train health providers to ensure women with fistula are properly identified and receive appropriate care as well as increase community outreach to provide treatment to more girls and women. Most recently, Direct Relief formed partnership to bring fistula care and treatment to remote corners of Pakistan was launched.
Stories of Health and Hope
Learn about the women receiving fistula repair and the health professionals providing life-restoring care by clicking on an image below: