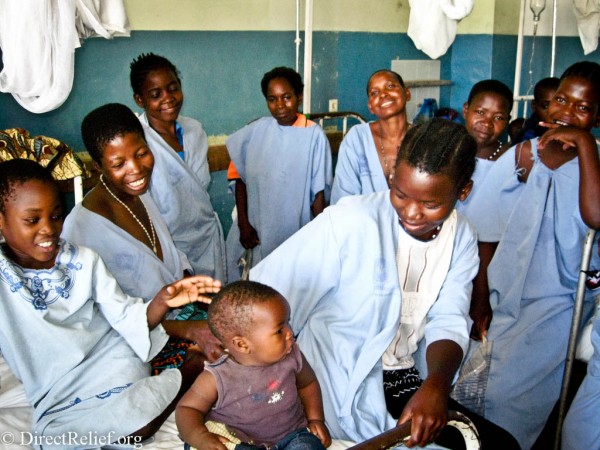 All pregnant women are at risk of obstetric complications. In roughly 15 percent of deliveries, an unpredictable complication occurs, such as severe bleeding, hypertension, infection, and obstructed labor. When this happens, it is essential that women have access to life-saving emergency obstetric care, including cesarean delivery.
The leading causes of maternal death can be treated at a well-staffed, well-equipped health facility that is able to provide emergency obstetric care services.   Many newborns who would otherwise die can also be saved at such a facility.
"The equipment that Direct Relief has provided has greatly improved both maternal and neonatal outcomes at Rugarama Hospital and in the district at large. Now, women don't die from complications of hemorrhage and obstructed labor and the hospital is better able to take care of neonates and premature babies in our neonatal unit, the only such facility in the region. Rugarama Hospital is committed to putting the donated equipment to the intended purpose as it is the least we can do in appreciation of Direct Relief's support." 

Dr. Gilbert Mateeka, Medical Superintendant at Rugarama Hospital
Many women are not able to access timely emergency care because health facilities in remote and rural areas are often poorly equipped to manage obstetric complications. Since 2006, Direct Relief has provided medical equipment and supplies to hospitals and health centers in high-need areas to enable them to initiate or expand their emergency obstetric care services. By ensuring trained health providers have access to needed equipment and supplies, Direct Relief is working to reduce preventable death and disability among mothers and infants.
Partnerships
Haiti has the highest mortality rates for mothers, infants, and children under five years old in the Western Hemisphere. In April 2012, Direct Relief launched a major initiative to reduce maternal mortality and improve the health of moms and babies across the country. Eight hospitals and health centers in remote areas of Haiti were upgraded with medical equipment and supplies to improve their ability to provide emergency obstetric care. With the help of this initiative, an estimated 60,000 pregnant women will receive quality medical care and have access to safe deliveries at these eight hospitals over the next three years.
In Uganda, approximately 14 women die every day while pregnant or giving birth, largely due to direct obstetric complications. Direct Relief is improving availability of emergency obstetric care in Kabale, an isolated, southwestern district of Uganda with very limited health care services. As part of this effort, Direct Relief fully equipped the new operating theater at nonprofit Rugarama Hospital. Prior to Direct Relief's investment, there was only one operating theater to provide cesarean sections in the entire district of 600,000 people. In August 2011, the new operating theater at Rugarama Hospital was opened, and in the following 10 months there were 40 deliveries and 15 cesarean sections performed on average each month. There were no maternal deaths at the hospital during this time.
Emergency obstetric care saves the lives of mothers and babies during complicated deliveries so that pregnancy can be a joyful time for women around the world, not a potential death sentence.