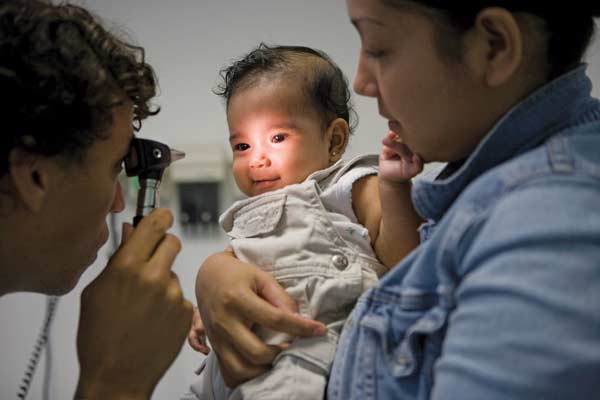 USA Programs
Direct Relief's USA programs are an important part of the organization's efforts to strengthen America's healthcare safety net by providing nonprofit community clinics and health centers with medicines and medical supplies for their low-income and uninsured patients.
Our USA programs were established in 2004 to help people in the nation's medically underserved communities gain greater access to healthcare resources, and to improve the ability of small safety net health clinics to provide services to our poorest citizens in both urban and rural areas.
As the only nonprofit organization licensed to distribute pharmaceutical medications in all 50 U.S. states, Direct Relief provides medicine and medical supplies to people in need through a network of 1,100 nonprofit clinic and health center partners. View our interactive USA Aid Map.
Whom We Help
Direct Relief's donations continue to provide essential medical supplies and help us to divert funds that would have been spent on these items to other critical needs."

Frances E. Isbell, M.A., Executive Director, Healthcare for the Homeless, Houston, TX
In 2011, nearly 50 million people across the United States (15.7% of the population) lacked health insurance. Those without insurance have few options to receive basic, quality, and affordable healthcare. One essential source of medical care for those without health insurance is the nation's network of nonprofit community clinics and health centers.
Nonprofit community clinics and health centers provide comprehensive, culturally sensitive health services to more than 20 million people in the United States every year. Located in medically underserved areas, safety net clinics and health centers provide primary care, dental services, behavioral health, and other support services to patients regardless of their ability to pay. Without access to these clinics and health centers, over-burdened hospital emergency rooms are often the only alternative for uninsured patients to obtain essential medical care.
What We Do
Direct Relief provides support to more than 1,100 nonprofit community clinics and health centers in all 50 states and Washington, D.C. This network is the nation's healthcare "safety net" that supports more than 10,000 clinical sites that provide comprehensive, culturally sensitive health services to more than 20 million people, regardless of their ability to pay. Through partnerships with leading pharmaceutical and medical manufacturers, Direct Relief strengthens community clinics and health centers throughout the United States:
Direct Relief's Safety Net Support is the largest program of its kind in the United States and provides the network of more than 1,100 community clinic and health centers with medications, medical supplies, and other healthcare products for their patients at no cost. Requests are made online through the Direct Relief Network – an online ordering platform – that enables healthcare providers to obtain the medical supplies that they need to provide services to their patients.
Direct Relief also provides targeted assistance to help safety net providers prepare for and respond to emergencies, especially in poor cities and rural areas. Response efforts – which include distribution of pharmaceuticals, medical supplies, equipment, and cash – operate rapidly and involve local agencies and other nonprofit relief organizations.

As a complement to typical patient assistance programs, Direct Relief's Replenishment Program provides pharmaceuticals to certified clinics through a replenishment model for dispensing to qualified patients, enabling clinics to receive products on a consistent basis, through a single source, and at no cost.
Direct Relief supports vulnerable people in our local community of Santa Barbara, California, by supporting local social service agencies, non-profit organizations, and the Public Health Department.
1,200 Direct Relief clinic and health-center partners receive offers that include medicine, medical products, and supplies available to them free of charge. Click here to apply for membership in our partner network.